A Vindication of Love: Reclaiming Romance for the Twenty-first Century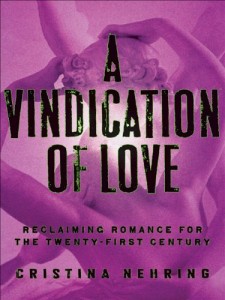 In the twenty-first century, cynicism, pragmatism, political correctness and the commodification of sex have reduced romantic love to a discredited myth or a recreational sport—"a cause for embarrassment," writes Cristina Nehring.
In A Vindication of Love, Nehring wrests this most creative and consuming of passions from the clutches of political ideologues as well as thrill-seeking convenience shoppers, safe-sex moralists as well as cutting edge capitalists. Drawing on lovers as diverse as Heloise and Abelard, Tristan and Iseult, and Frida Kahlo and Diego Rivera, Nehring analyzes the wild, irreverent, and uncompromising models of love we have inherited. As she rediscovers romantic love's fearless and heroic provenance, she challenges readers to seek partnerships that fully engage body, heart, and mind.
A thinking person's "guide", Vindication makes the case for love in an age at once fearful of and cynical about strong emotion. Bold and challenging, this first book has inspired high praise and strong controversy, brilliantly reinvigorating the debate about the most essential and inflammatory of human emotions.
Buy at Amazon
Reviews
"A fierce and lively book…. one of those rare books that could make people think about their intimate lives in a new way."
New York Times Book Review
"A rousing defense of imprudent ardor and romantic excess. . . . It's difficult to deny that she's on to something. . . . Ms. Nehring reveals (and revels in) the rich inner agonies of the love-tossed."
Wall Street Journal
"An ambitious polemic. . . . A fresh reading of literary and historical figures. . . . Nehring's paean to unconventional ecstasy is a bracing reminder of how narrow and orthodox our vision of love has become."
Slate
"An eloquent plea for romantic daring and idealism… A bold, high-flying polemic which sets out to do nothing less than reclaim romantic love for our times."
Open Letter Monthly
"A wild appreciation of men and women . . . who passionately and fearlessly and recklessly redefine romance. . . . The passionate creatures who refuse to play it safe and settle down now have an intelligent, like-minded advocate."
The Smart Set
"A fresh and intelligent reappraisal of love which takes the reader on a riveting journey through the best of literature."
Mario Vargas Llosa, Winner Nobel Prize for Literature, 2010
"This is the most intrepid, original, and enjoyable book on love to come out of a shiksa in twenty-five hundred years. Invigorating, life-affirming, toughly argued and deeply felt."
Gary Shteyngart, author of Supersad True Love Story
"Nehring takes on the tepid, pragamatic narcissism that has replaced romance in American mass culture and gives it a trouncing…This deeply absorbing book is a reminder: Without risk, there can be no real joy."
Siri Hustvedt, author of What I Loved
"I could not stop reading Vindication. It's a stirring, provocative book that says something desperately important at this moment. Nehring challenges us to rethink what love means…"
Jay Parini, author of Why Poetry Matters
"This captivating book provokes a flush…. Nehring aims to get under the skin…she wants us to feel, to read with vigor, to engage."
Aimee Bender, author of The Girl in a Flammable Skirt
"A sharp new polemic…. A Vindication of Love makes an ardent and engaging case for attraction in its rawest form—where lust, emotion and the intellect converge."
NPR
Amazon Reader Quotes
"There simply are no words that can explain the salve her book brings to those who live like glowing Roman Candles, be it in love or elsewhere in life. The words of Viktor Frankl come to mind, 'That which is to give light must endure burning.'"
S. Erlandson
"This wonderfully learned, wonderfully exuberant defense of love looks simultaneously at how we live in the contemporary world and how great lovers have behaved in the past. Sadly, for all our freedom of choice and opportunity, we moderns finish a distant second (or fourth, or fifth) place. Taking on the received wisdom of the decades following the sexual and feminist revolutions of the 60s, Nehring draws from her deep reading of the classics to argue for the qualities usually seen as threats to a desirable relationship: inequality, transgression, long distance, aggression, among others. Although all this stuff mother warned you about can easily turn a couple into wrecks like Sid and Nancy rather than the idealized lovers Nehring lingers on, we forget at our peril how human nature craves risk and obstacle to confront and overcome.
In its humanity and range of reference–Nehring is equally at home among the writers of antiquity, the Middle Ages, the Renaissance, and the modern periods–this book reminds me of Ocavio Paz's splendid The Double Flame: Love and Eroticism, on the same subject. But where Paz's book reflects on love after a long lifetime of experience, Nehring's plunges in with the spirit of youth and an appetite for more life, more experience. Although one does occasionally wish for a more vigilant editor–figures such as "the famous French novelist of the nineteenth century, Stendhal" and "the Greek philosopher, Plato" stumble into the book before finding surer footing in Nehring's larger arguments–the author's deep, personal engagement with her material makes this volume a compelling read."
Red State Reader
"Nehring's sweeping study of the amorous drives of men and women from classical antiquity through the present is a delight on many levels. She writes with the wit and grace of the journalistic pundit she is, but her scholarship is thoroughgoing and illuminating–especially about texts educated readers too easily assume they know all there is to know about. Nehring has surprising yet supportable things to say about Plato's amorous dialogues, Dante's Vita Nova, Trstan and Iseult, and the emergent courtly tradition. She delves deeply into creative lives, especially women's, to underscore what is unavoidably a radical and challenging thesis: that passionate–even seemingly crazy passionate–love far from blinds lovers; it lights their way as no other condition can. In Nehring's view, Love, acknowledged for what it is, is the way out of the deadening cultural malaise created by love-averse pundits on both right and left. This is a no-category treasure of a book."
Nicholas Jenkins
"A fresh and delightful journey through historical, philosophy, and sociological vignettes of human relations, written by somebody who herself was clearly inspired in the best way while writing the book. I think Cristina Nehring is a very clever girl. Thank you for writing this gem."
Q. Comendant
"This is probably my favorite piece of cultural criticism in recent years. The bulk of the text deals with romance in fiction, but it's the general introduction that delivers the biggest punch. It addresses the way our culture denigrates women's interest in romance, and it's fascinating, fresh, and important. I loved this book. Kept underlining and putting stars in the margins."
Lynn A. Weber
"Cristina Nehring navigates the rocky shoals between angry feminists and men honeslly confused by their movement to assert that we need a new time of "revived romantic hope…of fresh daring" between people who long for joy that love once seemed to promise to couples. She plumbs literature and literary biography to explore how love brought pain, joy, sorrow, and sublime engagement with life to her subjects, most of whom are from Western culture and the early modern world.
Her project is nothing less than to reinvent romantic love for the early 21st century, when we are often diverted by gender and power issues and a sense of triumphalism that sees marriage as the ultimate and only measure of success. (Not for a moment does she discount that wondrous outcome for many, however.)
It appears that Nehring's wellspring for her study may have come from her insight that "the more intelligent [women] are, the more ironical and distant [they] must be" to love's calling, its demands, its challenges. Au contraire, insists this American writer living in Paris: intelligent women are "excited by men."
For some of us, her chapter on "Love As Failure" may offer deep consolation over lives where love did not "succeed." She draws on the stories of Heloise and Abelard, Goethe's "Sorrows of Young Werther," and Ralph Waldo Emerson's love for Margaret Fuller. Each had its "brush with the sublime," she insists. Each partook of the "heroic and transcendent" nature of love, which we have lost and which she wants to "make honorable" again.
If you believe, or once did, that love held out a hope worthy of life itself, this book vindicates your belief. Argue against that proposition, if you will–but enjoy an inspiring argument, based in rich scholarship, and presented in prose that doesn't miss a beat or a line."
James Summerville
"I first heard Cristina Nehring discussing her subject on public radio. She was so passionate and clueless about the usual talk show bromides and how to sell herself that I immediately ordered the book. Her Vindication resembles the polemics that Germaine Greer and Kate Millett wrote years ago — intelligent, hyperbolic, intensely literate — but is a lot more fun to read. And — no small thing — inspiring to a sometimes grim second-generation feminist like myself. Her take on lovers and love stories from antiquity to right now is like a Comp Lit whirlwind course in the History of Love, that insists — using case studies — that it's better to have loved and lost than never to have loved at all. Excellent writing, I look forward to more!"
Helen Epstein
"Cristina Nehring's academic yet passionate approach to the topic of "love" and "passion" adds a perspective seemingly having been lost in our more efficiency-oriented society. She successfully recaptures, or at least provides a strong polemic arguing for, the resuscitation of that most human about us that may not so neatly "fit" the more orderly, at times rigid and overly controlling boxes into which we attempt to contain matters of passion and the heart. Bravo for Nehring's cutting through to what would feel far more vibrant and alive within us."
Scott Cooper